The Osprey is a group of professional scuba divers from England who specialize in Powerboat Racing Rescue. They are highly motivated and capable of performing rescue operation effectively and efficiently.
The team came into existence some thirty-five years ago when members of Staffordshire Sub Aqua Club were asked to attend a Powerboat Meeting at Chasewater Powerboat Club. Those members were not impressed with the Rescue that the club had and set about creating what would become the «Osprey Powerboat Rescue Team».
Gone are the days when an accident happened the rescuers had to drag injured drivers bodily over the side of a rescue boat. This process was slow, and more importantly, since many of the injuries are to the spinal column, the rescue could prove worse than the actual accident.
The team came up with a solution to have a craft where the bow ramp drops. If a serious injury is suspected the boat is partially flooded, allowing the diver to effectively dive under the casualty. The injured person is then floated over the ramp into the boat and straight onto a stretcher. Accelerating away makes the boat automatically self-bail.
The biggest concern of racing drivers is that they will be trapped in their boat after an accident, risked either drowning or suffering brain damage.
All Osprey members are qualified sub-aqua divers and carry equipment to cut drivers free from their wreckage. They are also trained in first aid, under the supervision of the team Doctor, Dr Ian Wilson.
Four minutes under water can mean brain damage, but the team guarantees to be at an accident within thirty seconds.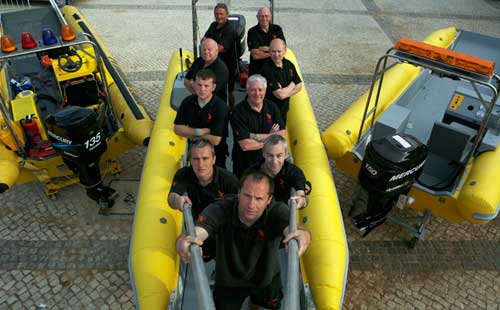 Back